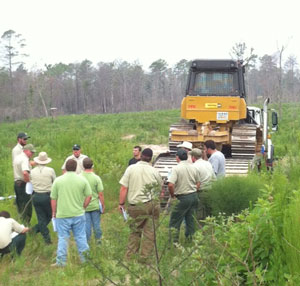 Recently-hired resource specialists got a chance to learn about water quality protection issues during a workshop in Hudson.
Forester Todd Thomas and Resource Specialist Bernie Buckner led the class to expose the new employees to Best Management Practices.
"The BMP training helped newer staff learn how to help mitigate water quality issues while they're working in the forest," said Forester Todd Nightingale. "They will be able to use what they learned to assist forest landowners with information, and it will help make them more proficient at fireline rehabilitation operations after wildfires."
Participants got to install waterbars and learned how to manage site disturbances to reduce impacts to local waterways.